This is a guest post by AVGVST creative agency. AVGVST are our good neighbours here in Nishizabu Tokyo, so we thought it is a good idea to ask them to create a few good-looking blog posts for us.
LP-RESEARCH provides answers to some of today's hard engineering problems and questions. It is in the company's essence to find those solutions and provide them to the people who need them most.
Find out more about the company and the people behind it in this interview with the LP-RESEARCH team.
We are in Germany, on one of the fastest highways on this planet – Die Autobahn. A silver limousine is cruising down the road, gentle and elegantly it cuts through traffic. Its driver wears augmented reality glasses projecting his distance to other cars, navigation information and nearby construction zones directly onto the road into the driver's field of view.
Beijing China. A forklift is navigating autonomously through a warehouse to organize the stock of an international trading company. Following its pre-programmed routine, the forklift silently moves from A to B, B to C, repeat, effortlessly picking up and delivering palettes loaded with goods to be shipped.
Thousands of miles away, an employee of a Swiss chocolate factory is packing pralines into heart-shaped boxes. His movements are efficient, following a dynamically calculated pattern optimized to maximize productivity, while at the same time helping the employee to keep a healthy posture and minimize the strain on his joints.
From the warehouse in China over chocolate made in Switzerland to cruising on the German Autobahn, there is one thing that connects all these locations: A technology company from Tokyo – Life Performance Research Inc.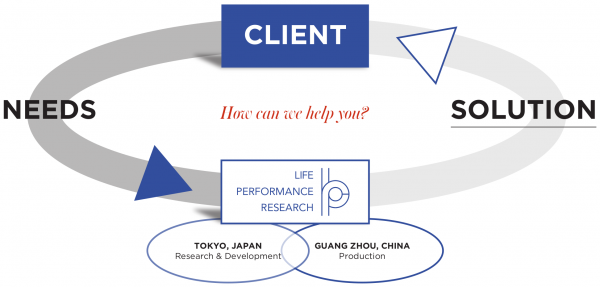 Solutions to Hard Problems
The core of LP-RESEARCH's business and the starting point on many of their journeys to finding a solution to a hard problem relies on their advanced sensing and measurement technology. LP-RESEARCH's product, the Life Performance Motion Sensor (LPMS) algorithmically fuses together information from a gyroscope, accelerometer and other sensors.
Mathematically "glued" together, these data streams produce a result that is in its accuracy and responsiveness superior to the information gathered from a singular source. This type of sensor fusion represents the focus and core knowledge of LP-RESEARCH's developments and is applied in all variations of the company's products and services.