LPMS-UTTL2: 9-Axis Inertial Measurement Unit (IMU) / AHRS with USB and UART TTL Connectivity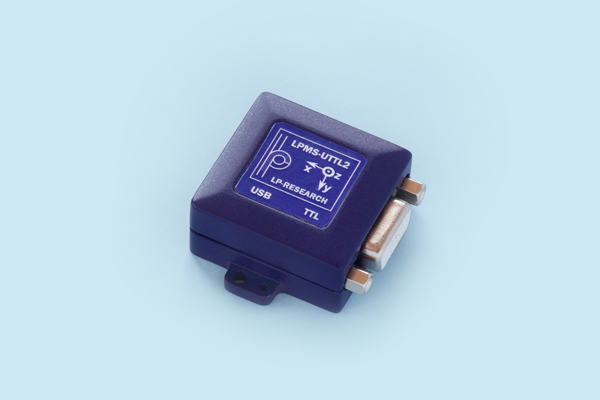 Description
The LP-Research Motion Sensor with USB and UART TTL connectivity version 2 (LPMS-UTTL2) is a miniature inertial measurement unit (IMU) / attitude and heading reference system (AHRS). The unit is very versatile, performing accurate, low-latency orientation measurements. By the use of three different MEMS sensors (3-axis gyroscope, 3-axis accelerometer and 3-axis magnetometer) low-drift, high-speed 3D orientation data is achieved.
A temperature and barometric pressure sensor allows the acquisition of accurate altitude measurements. LPMS-UTTL2 communicates with a host system either via USB interface or UART TTL (3.3V) connection, reaching measurement-data transfer speeds of up to 400Hz.
The sensor's TTL serial communication uses either our proprietary LP-BUS protocol or alternatively a plain ASCII output format. The unit contains a 32-bit digital signal processor capable of running all calculations on-board in real-time. For more information on our sensor fusion method please refer to the IMUcore description.
Specifications
| | |
| --- | --- |
| Communication interface | TTL, USB 2.0 |
| Communication protocol | LpBUS |
| Size | 34 x 34.5 x 15.7 mm |
| Weight | 17.6 g |
| Orientation range | Roll: ±180°; Pitch: ±90°; Yaw: ±180° |
| Resolution | < 0.01° |
| Accuracy | < 0. 5° (static), < 2° RMS (dynamic) |
| Accelerometer | 3 axes, ±20 / ±40 / ±80 / ±160 m/s2, 16 bits |
| Gyroscope | 3 axes, ±125 / ±245 / ±500 / ±1000 / ±2000 °/s, 16 bits |
| Gyroscope noise density | 0.007 dps/√Hz |
| Static orientation stability | 9 °/hour |
| Magnetometer | 3 axes, ± 4 / ± 8 / ± 12 / ± 16 gauss, 16 bits |
| Pressure sensor | 300 – 1100 hPa |
| Data output format | Raw data / Euler angle / Quaternion |
| Data transmission rate | up to 400 Hz |
| Power consumption | < 175 mW@3.3V |
| Power supply | 5 to 18 V DC (TTL), 5 V DC (USB) |
| Connector | DB9 female (TTL), Micro USB-B (USB) |
| Case material | ABS Plastic shell |
| Temperature range | – 40 to +80 °C |
| Software | C++ library for Windows, LpmsControl software and Open Motion Analysis Toolkit (OpenMAT) for Windows. |
Order
Product
Package contents
Price
LPMS-UTTL2
1 x LPMS-UTTL2 sensor
1 x Micro USB cable
1 x User guide card
1 x Warranty service (1 year)
Order online
Find a distributor